Before we go into how you can implement serialization for your pharmaceutical products, let's do a recap of what serialization is and why it is important.
You might end up realizing that you don't need serialization after all. 
What is serialization in pharmaceutical packaging?
Pharma serialization is the process of assigning unique serial numbers to every drug packaging that is sellable; primary, secondary, and tertiary.
So from blisters to bottles, cartons, and pallets, they all carry a unique identifier. This unique identifier can either be QR Codes or DataMatrix Codes (depending on the country/region) and carry information about the product's origin and validity.
These codes are then printed visibly on the respective packaging and are linked to each other. That is, the code of a bottle of pills is linked to the code of the carton it came in, which is also linked to the pallet that transported it from the factory/warehouse.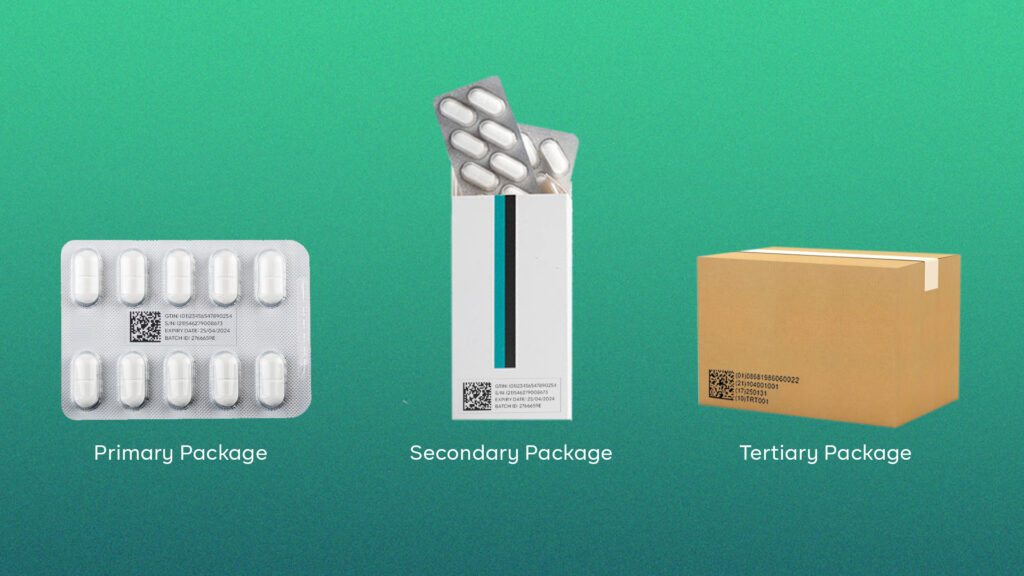 What are the benefits of serialization in the pharmaceutical industry?
Serialization for traceability became needed in the pharmaceutical industry mainly due to counterfeits. Packaging serialization achieves this by creating a closed system where the distribution of medicines can be controlled and monitored by stakeholders like regulators, manufacturers, distributors, healthcare providers, and even patients.
Over the years though, the benefits of implementing serialization have spread to other parts of the business. Here's a summary of some of the most popular ways stakeholders have benefited from the serialization of pharmaceutical packaging:
What are the most commonly used methods for serialization in the pharmaceutical industry?
Now that you know what you can gain from serialization, the next big question is;
How can I get my products serialized?
There are two popular ways currently being used by many pharmaceutical manufacturers based on criteria like cost, regulatory compliance, complexity, efficiency, etc. We've done a comparison below:
1. In-Line Serialization of Pharmaceutical Packaging
 As the name implies, in-line serialization means printing the serialized codes on the pharmaceutical product's packaging directly on the production line. Everything automated.
As the codes are being printed, they are scanned to activate that product and then automatically tagged with the serialized codes on the boxes they're grouped in. This method is what's currently used by multinational pharmaceutical companies globally.
Pros of In-Line Serialization
 There is zero room for error and it can automatically manage all levels of serialization
Once implemented, it doesn't slow down your production or operations processes
Cons of In-Line Serialization
It is expensive to implement as new production machinery will be required for manufacturers without such automation in their production lines already.
It takes more skill to manage and troubleshoot any issue that might arise during use. Training and retraining workers will be likely required
2. Label Serialization of Pharmaceutical Packaging
If we're being honest, you will agree with me that many of the small to medium-scale producers of pharmaceutical products do not have fully automated production lines. 
To implement serialization, they can use sticker labels that can be applied to their products automatically (by extending their production lines with a labeling machine) or semi-automatically (by applying with a hand-held labeling device).
This method is also very beneficial for distribution companies that would like to implement their own closed ecosystem or even for NGOs and donor bodies that fund programs around medicine distribution.
Pros of Label Serialization
It is more affordable to implement
It can be implemented in days as opposed to in-line serialization
Cons of Label Serialization
The human element means there's always room for error
The more levels of packaging that need to be serialized, the harder it gets to use this method
Will slow down your production and operation process as this is a new process that requires some form of manpower.
How to choose a serialization software for your pharmaceutical packaging
Regardless of the method of serialization you decide to use for your pharmaceutical products, the most important aspect is that you get the software you use spot-on.
Why? This is what ensures you're able to get the most value from your serialization efforts. After all, why settle for half when you can have it all?
Here are 5 important things to consider when picking a pharma serialization software.
Chekkit's anti-counterfeit solution and serialization solution creates unique QR codes or DataMatrix codes for all your packaging levels. Our unique verification process helps you collect insights on drug efficacy, market diversions, side effects, helping you stay a step ahead of the competition always.
Will you like to see how it works? Get a free product demo